Reading time: 4 minutes

The Travelstart Affiliate Program makes building tracking links simpler than ever and you can do this straight from your account.
Tracking links are used to measure the performance of your channels, sales, promotional campaigns and activities. Its important to use tracking links when directing traffic to Travelstart to ensure sales and commissions are successfully tracking to your account.
Note, bookings made through an iframe on your website will automatically track as a sale in your account, therefore tracking links are not needed.
Build your own tracking links with parameters of your choice to track the performance of outside channels that advertise your banner ads. These links can bring traffic from your social media channels, email marketing, PPC, website placements and more.
If you haven't logged into your account, Click Here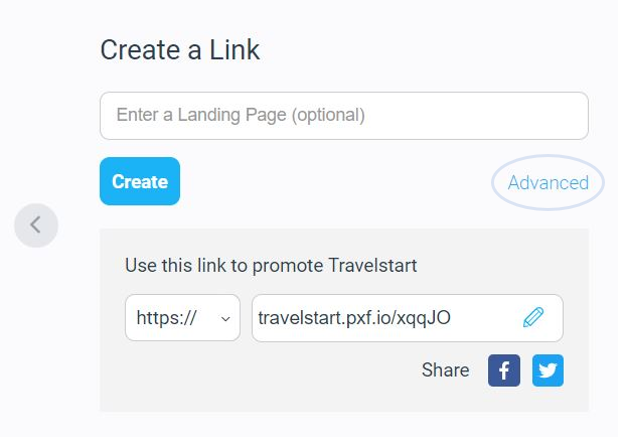 First step, click the "link" icon on the left-hand side of your screen to open up a fly-out with your link building tool.
If you add SubID and/or SharedID values to your link and a user clicks through, these click-through's and actions are recorded and stored.
Lets go through them below




How SubId's and SharedID's work
You can add unique parameters to your tracking link to capture reporting data about the referring campaign.

1. Sub ID 1
The Sub ID 1 is used to track how each link is performing. What referring traffic do you want to track? If you want to track a specific social media platform such as Facebook, you can write "Facebook" in the Sub ID 1 input field. If you want to track the performance of a travel agent or person, you can use their names.

2. Shared ID
The Shared ID groups all your links into one category. This is important when reviewing performance reports at a later stage. The Shared ID must remain the same for all links created within the same campaign.
Setting Custom URL Parameters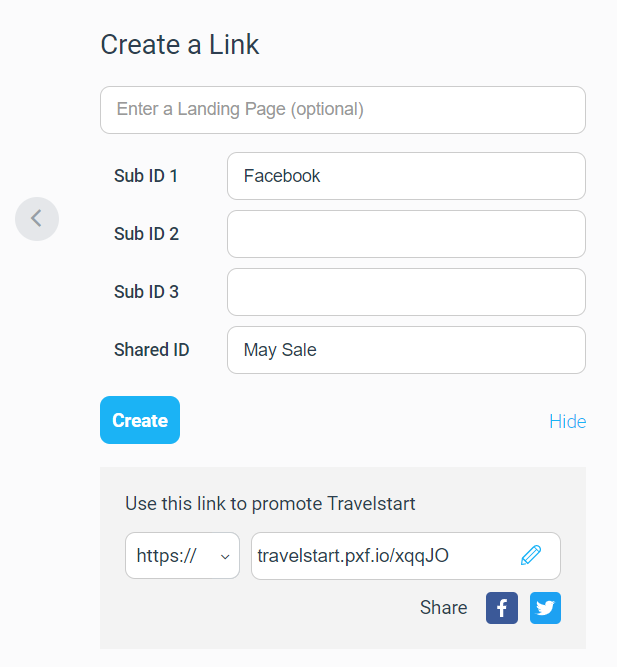 From the "Create a Link" widget, click Advanced to show a drop down of different input fields
If you prefer to add a different landing page, paste the preferred URL into input field and click Create to generate. Leaving this field empty will auto-populate Travelstarts URL.
Perhaps we'd like to track the performance of different social media channels for a big sale in May.
For my first link, I'll add "Facebook" to the Sub ID 1 input field.
Next, I'll type 'May Sale' into the Shared ID input field.
Note that your tracking link is conveniently made into a customized short link. It should look something like this:


Paste your link in a new tab for the URL to expand and show the full URL. Ensure that your tracking link URL contains your unique affiliate ID in these two UTM parameters:
utm_medium=1398192
affid=1398192
You do not need to adjust or customize this link. Contact your affiliate manager to run test bookings to ensure each sale is tracking to your account correctly.
Building a Second Link within the same campaign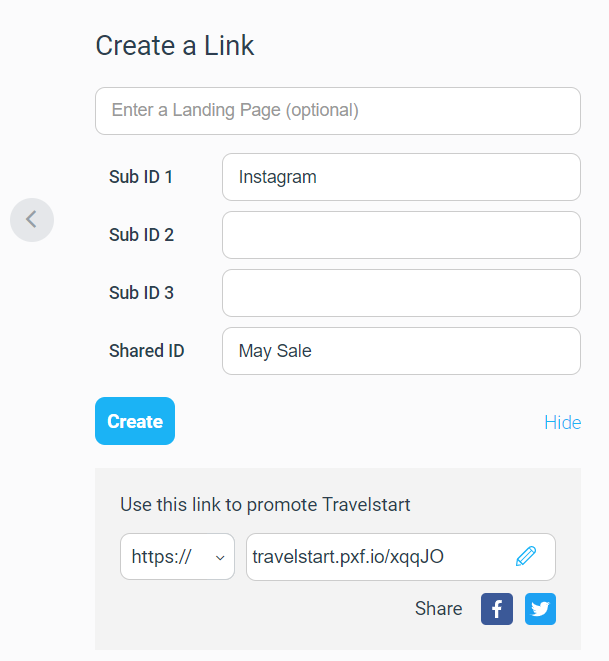 Inputting values in all three Sub ID fields will add three parameters to one link.
To create separate links with different Sub ID values, only make use of the Sub ID 1 field.
If we wanted to track our Instagram channel for the May Sale, we can add this name to the Sub ID 1 field.
Remember, the Shared ID will remain identical to the previous link. In this case, we will type in 'May Sale' again.
Click Create to generate and save your Instagram tracking link.

How to view unshortened vanity links
All links created in the Link Building tool will be shortened automatically to makeit easier to work with.
If you want to view the unshortened link with the different parameters:
Top Menu Bar -> Ads -> Vanity Links

Here you will see which links belong to which Sub IDs in the Metadata section. These links will always remain here for you to use until you manually delete them under Actions.

Performance Reporting
You may access information on the performance of this link in the Advanced Action Listing and Performance by Sub ID reports. There are two reports to review the performance of your tracking links. This can be found by either navigating to


Reports > Performance > Advanced Action Listing
OR
Reports > Performance > Performance by Sub ID


Use the "+" filter to add 'SubIds' and 'SharedId', then click search to bring up the results of the campaign

Note: Sub ID reporting information is available to the advertiser only and SharedID is visible in both media partner and advertiser
---
If you have any questions, feel free to reach out to us at affiliates@travelstart.com