Who is Travelstart?
Travelstart is Africa's leading online travel agency. Based in sunny Cape Town, we have offices across Africa and the Middle East where hundreds of Travelstarters are dedicated to rocking your travel world. We want our customers to spend less time planning their travels and more time on holiday using our simple online booking platform.
Travelstart makes planning your dream trips simple and fun again. Head over to www.travelstart.co.za to search, compare and book the cheapest flight deals with the best airlines, using multiple payment methods. Fly in with one airline, and out with another and save big. Organizing your trip has never been so simple.
We have partnered with Impact Radius to produce you with a market leading affiliate program
How does the Travelstart Affiliate Program Work?
Performance advertising is simple; you receive large earnings for promoting a simple and seamless booking process with the lowest fares. If you're completely new to our affiliate program, we can provide you with free tutorials and full support in growing your online business.
Building a healthy online business requires great flexibility, drive and optimization of your website.
We know, it's a lot of work.
Making money with affiliate marketing to support your online business is a great way to monetize your website and…. its not as hard as you think.
Here's how it works: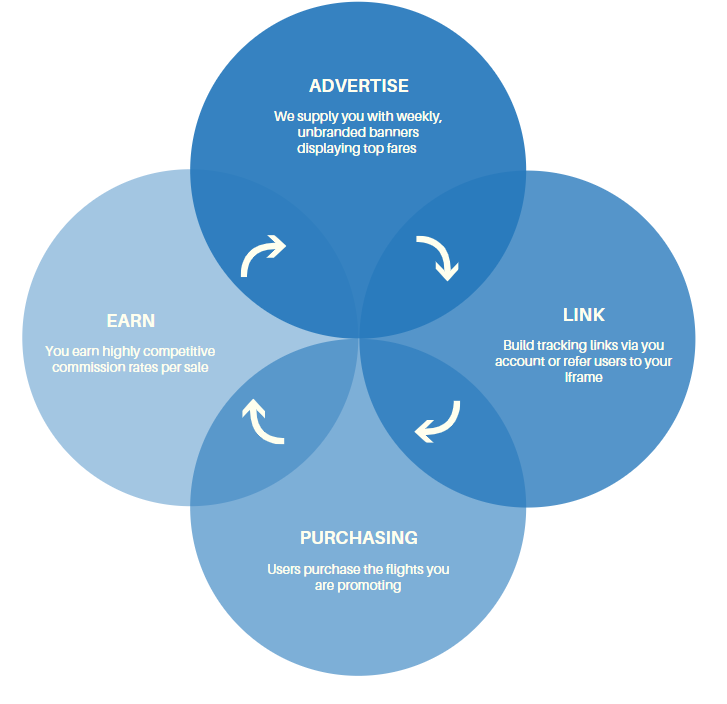 Benefits of signing up:
No costs: Our affiliate program is free
Earn highly competitive commission rates
No inventory, no customer queries and no suppliers for you to worry about
Full access to the Iframe code, banners and real-time reporting as soon as you open an account
You can make money 24/7, while you sleep or while you work as long as you have internet access
No special training is required, but it helps to brush up your SEO and digital marketing knowledge
Weekly banner kits with the latest deals long with various marketing tools to promote
State-of-the-art technology platform, free suite of creatives and real-time reporting capabilities.
Full-time support from a dedicated affiliate manager
Our Promise to you:
The key to a beneficial affiliate program is to promise you the education, reward and full-time assistance in helping you to reach your full potential. When it comes to our program, we want to hear more about your business model and strategies to enable us to find the right solutions to make your online business successful.
You are more than welcome to email or call if you have any questions on getting started.
We look forward to being affiliated with you!
Not receiving our weekly banner kit deals? Email us at affiliates@travelstart.com