Reading time: 3 minutes
Promoting cheap flights with the Travelstart Affiliate Program to maximize your commission earnings is now simpler than ever with our endless supply of unbranded banner creatives.
You can download promotional banners as an image or as a shortcode for easy uploads. Tracking links with your unique affiliate ID are included in each banner kit you receive.
There are two methods you can use to get your promotional banners:
Method One:
Get banners straight from your email notification (Easier)
Every time we release a new banner kit (sales and hidden deals), you will get notified by an email with a subject line called "Travelstart Ad Code" which looks like this: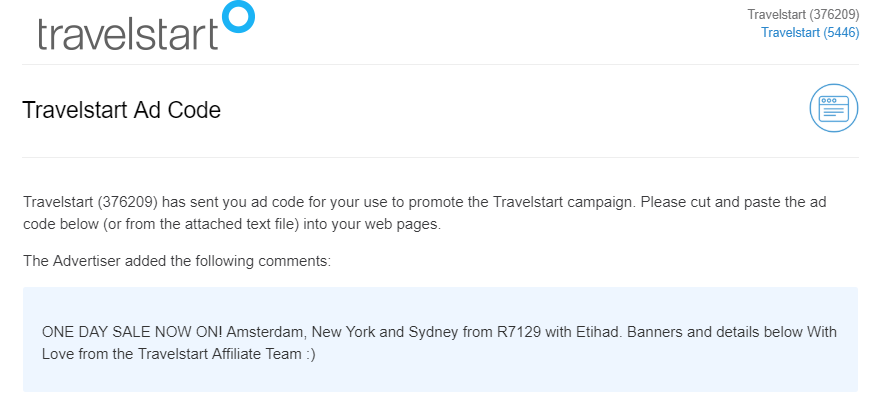 The heading is the name of the sale and the banner size is on the right hand side of each heading.
The sales booking dates (Ad Start and Expiration date), travel dates, routes and pricing is in the description above the banner image.
Remember to add this information to your promotional post so your customers can find the deals.
iFrame codes, HTML codes and Tracking links will be included below the banner image. Note that your affiliate ID is already added.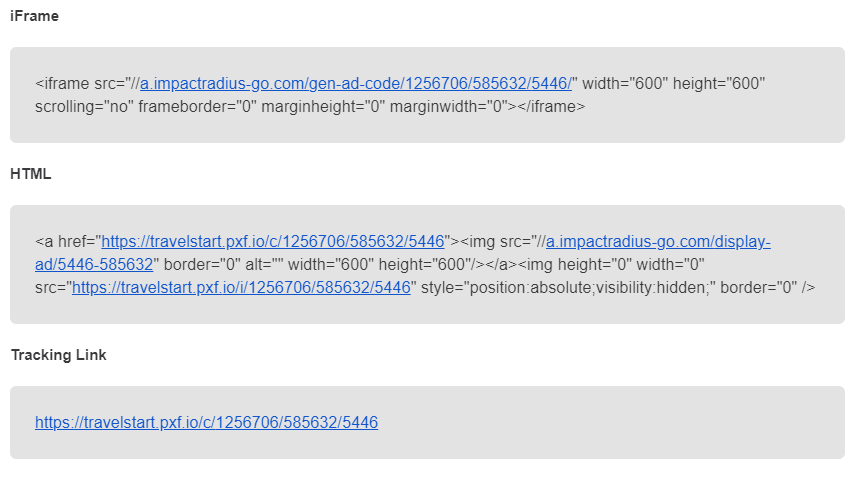 If you prefer to use images, hover your mouse over the bottom right corner of the banner and click "Download"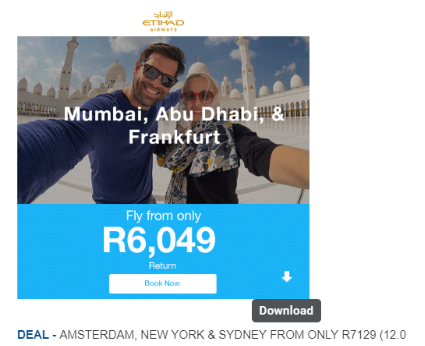 Method Two:
Retrieving banners directly your Impact Account
After an email notification of new sales, log into Impact with your account information: https://app.impact.com/login.user
On your dashboard menu, navigate to the "Ads" tab at the top and select "Ads & Links"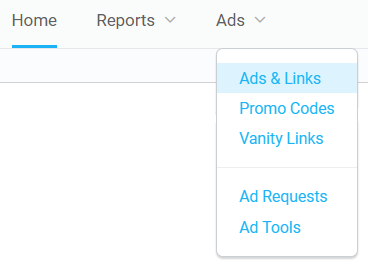 Below the heading "Manage Ads" you will find a search bar. Click the + button to add a search filter called "Deal"

Click on the new "Deal" tab to show a drop-down of current deals. Tick the box of the deal you would like to promote to show all banners.

On the far right-hand side of the banner you've selected to promote, click on the blue button called "Get Code"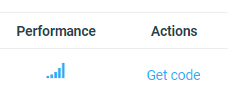 From here, you can simply click "Copy to clipboard". Note that your tracking link which includes your affiliate ID will be included with each banner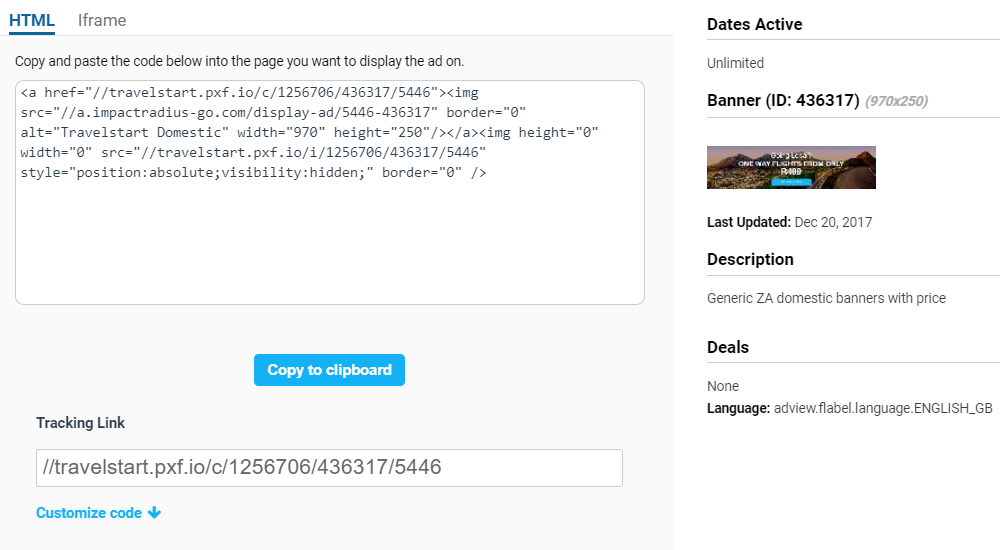 When a sale ends, banners will automatically be removed from your account. It is the responsibility of each affiliate to remove expired adverts from their promotional platforms to keep current.
Adding banners to your social media, newsletter mailer and website is the top method to drive bookings and increase your commissions.
For non-iframe users, its very important to add your tracking links when redirecting to www.travelstart.com. These links ensure that sales are tracked to your account and your commissions are paid out correctly.
Currently, we include the following high-resolution banner sizes:
120×600, 160×600, 180×150, 250×250, 300×250, 300×600, 320×50, 336×280, 468×60, 600×600, 728×90, 970×90, 970×250
1200×628 (FB) 1920×1080 (Insta) and 1280×720 (Twitter)
If you have any questions, feel free to reach out to us at affiliates@travelstart.com