You get paid by advertising performance campaigns to your audience on your blog, website, newsletter, search landing page.
Earn a passive income with Travelstart by promoting cheap flight deals to your audience.
The commission an affiliate can earn with Travelstart is highly competitive, currently the base commission and the CPA rate will increase automatically based on the volumes of sales.
Commission is earned on a CPA model (Cost Per Action). This is to say, the affiliate earns commission per each sale generated through either the Iframe or tracking links redirecting the user to Travelstart.
Each market/country has a different commission structure: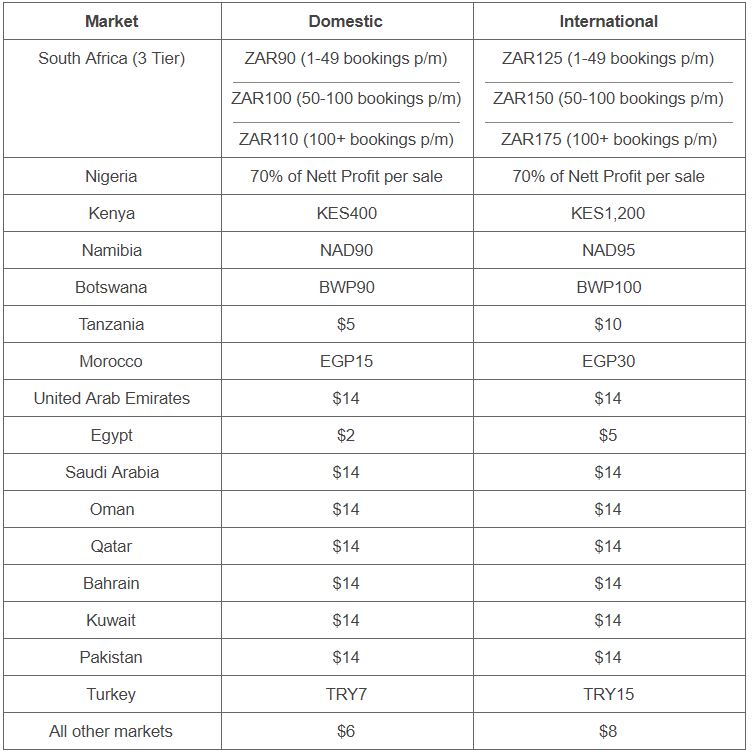 A few points to note:
Paid and processed bookings track automatically as sales through the iframe
Affiliates without websites or iframes need to make use of tracking links to attribute sales to your account
Your affiliate manager will test newly implemented iframes or tracking links to ensure successful attribution of sales to your account. Unsure how to get tracking links for banners? Click Here
Flight bookings not paid and processed before 23h59 on the same day will automatically cancel. Cancelled bookings will not qualify as a sale
Our call center may be in contact with the customer of the cancelled booking to assist with a new booking and payment. In this case, commissions will not be attributed to the affiliate as the sale was generated by our call center
If you have any questions, feel free to reach out to us at affiliates@travelstart.com